Resources Karin Recommends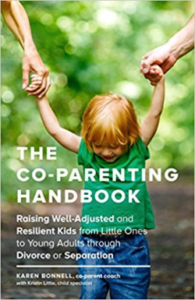 The Co-Parenting Handbook helps parents confidently take on the challenges of guiding children through divorce or separation and raising them skillfully in two homes.
Addressing parents' questions about the emotional impact of separation, conflict, grief, and recovery, the authors provide a road map for all family members to safely navigate through separation/divorce and beyond. Through tested and reassuring guidance, parents will discover how to move from angry, hurt partners to constructive, successful co-parents who are able to put their children's needs first. Chock-full of strategies to help resolve day-to-day issues, create boundaries, and establish guidelines, this handbook will help ensure kids and co-parents thrive.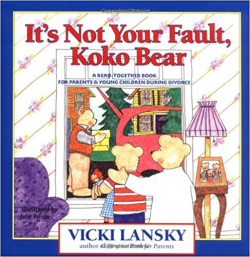 It's Not Your Fault, Koko Bear: This easy-to-understand children's story and parenting guide is intended for families where both parents plan to stay active and involved in their child's life. "It's Not Your Fault, KoKo Bear" revolves around a lovable bear who doesn't want to have two homes. KoKo's experience will help children learn what divorce means, how family life will change, and understand that the divorce is not their fault.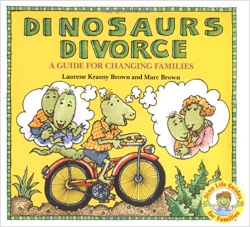 Dinosaurs Divorce: For over 25 years, changing families have been using Dinosaurs Divorce to learn to talk to each other about one of life's most difficult moments, from the creators of the beloved, bestselling Dino Life Guides–over half a million copies of the series sold.
Dinosaurs Divorce Will Help you Understand: * Divorce Words and What They Mean * Why Parents Divorce * What About You? * After the Divorce * Living with One Parent * Visiting Your Parent * Having Two Homes * Celebrating Holidays and Special Occasions * Telling Your Friends * Meeting Parents' New Friends * Living with Stepparents * Having Stepsisters and Stepbrothers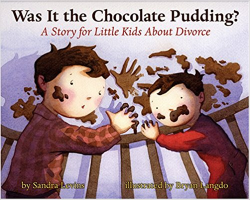 Was It the Chocolate Pudding?: A Story For Little Kids About Divorce – Readers learn about divorce, and receive age-appropriate explanations of what is happening regarding such issues as single-parent homes and joint custody as well as how divorce is a grown-up problem, not the child's fault. Simultaneous.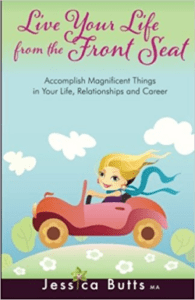 Live Your Life From the Front Seat: Accomplish Magnificent Things in Your Life, Relationships and Career – Jessica Butts takes the traditional Myers-Briggs Type Indicator and puts her 20+ years of experience working with the tool into a new, creative and easy to understand method she created called, Live Your Life from the Front Seat. With her "tell it like it is" style, she helps you answer these powerful questions: Who are you? Where are you going? How are you going to get there?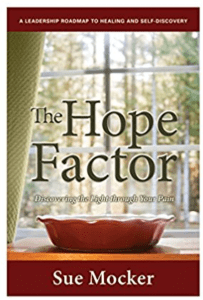 The Hope Factor: Discovering the Light through Your Pain – Hope is something we all need, desire, even crave. Perhaps you hunger for hope. Perhaps you have a slice of hope, but you want more. Join Sue Mocker on a life-changing quest for hope so you can begin your life anew. In The Hope Factor, Sue shares her personal stories of finding hope amid the adversities of life, and she offers a Hope Pie process that can serve as a roadmap for reaching hope. When people hope for something, they do so because something is wrong in their lives. Sue knows all about hope because she s drawn on it many times, during the trials of sexual abuse, divorce, illness, and issues of self-love. But through it all, Sue always had Hope to cling to because of her trust in God. Now Sue shares the Hope Pie process she developed based on her own and others experiences. This process teaches how to take intangible concepts about Hope, make them concrete, and bring them together, just as various pieces can form a whole pie. In these pages, discover the five pieces of Hope Pie that may be missing from your life. Then learn how, when you combine them, not only will you find hope, but you also will find a solution to your problem. Are you ready to hope again?
Forgive Yourself: Forgiveness is the key to restoring and maintaining wellbeing—forgiveness of ourselves, of others, and even of life itself. Each individual life is indeed a journey. And one of the biggest decisions each of us will ever make is how we wish to spend our life—as a victim, or as a victor.
By continuing along your own, unique journey as a victim, you're always carrying an enormous amount of baggage. That's a lot of heavy lifting for one person to endure.
However, if you choose to travel the road of life as a victor, you'll be amazed how much lighter, joyful and fancy-free your journey can be. Forgiveness isn't solely about getting rid of anger and resentment; forgiveness is about cultivating an environment of acceptance and allowance so that you can create the life you were designed to live.